Tom Petty 40th Anniversary

Title: Tom Petty 40th Anniversary
Publish Date: 2017-08-06
Category: Music & Concerts
Ok it's been over two months since I posted anything but I have been swamped busy and am still shocked about Tom's death.
I had written 95% of the aricle below prior to his death but he passed before I had a chance to finish and post.
I was thinking of completely re-writing this post but I decided to leave it as is and just finish the ending.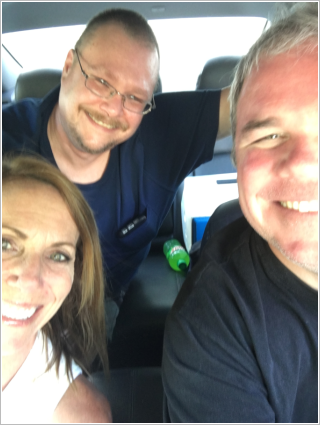 The Mrs., TJ & Me
When I found out Tom Petty was doing a 40th Anniversary World Tour I nearly fell out of my chair. My last Petty show was in 1987 there was no way in hell that I was going to miss this show. So... I bought tickets for me, the Mrs. and our bestest friends in Cleveland (TJ, Bill and Illeana). The tickets were bought during the pre-sale which was 7 months before the show. Don't ask the cost but it was SOLD OUT in a matter of hours.
The show was June 10, 2017 at Quicken Arena in downtown Cleveland Ohio.
This adventure starts with an 8 hour drive to Cleveland with the Mrs the day before the show. We stayed at my mother in law's house which is it's own adventure.
Nonetheless we made it in and our friends (Bill and Illeana) wanted to see the Journey Tribute band Escape over in their neck of the woods. The Mrs was pooped but I of course went. While the weather was a bit wet we had a blast and the band was great!
The day of the show was a bit warm but my mother in law's pool was just the prescription. So we hung out there until mid afternoon and then zoomed in to Mentor to grab some grub and pick up my bestest buddy TJ. - Thanks for treating at Subway Bro!
We arrived at the venue and our seats were great. I chose them based on the 2010 Pink Floyd show that we attended. A section above the floor on the right of the stage a bit. Bill and a friend made it but Illeana ended up not coming which was a real bummer but she was there in spirit (minus the nacho cheese sauce).
First up - Joe Walsh
I like Joe Walsh. His tenure as a rock and roll superstar speaks for itself but he puts out a "I'm tired of doing this shit" vibe. I noticed it in 2016 at Blossom too. Anyway his music is timeless even though he may not be.
Here's Life's Been Good to Me So Far...
Just like Hall & Oates from a couple months previous, Tom Petty came out to a standing ovation and it lasted for quite a while. The energy from the crowd was unreal. He started out with Rockin' Around (With You) and rocked for well over 2 hours. Here's the set list...
Rockin' Around (With You)
Mary Jane's Last Dance
You Don't Know How It Feels
Forgotten Man
You Got LuckyI Won't Back Down
Free Fallin'
Walls
Don't Come Around Here No More
It's Good to Be King
Crawling Back to You
Wildflowers
Learning to Fly
Yer So Bad
I Should Have Known It
Refugee
Runnin' Down a Dream
Their encore was...
You Wreck Me
American Girl
This was by far the best show this year. We all had a blast!
I am so glad that I was able to experience this band's last tour. I was so hoping to see Tom and all the Heartbreakers on their 45th Aniversary Tour but that will never happen now.
Thank you Tom and crew for so many great memories over the years and for this last show - RIP.
Here's a couple select videos from the show.